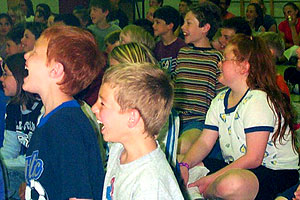 Anti-Bully Programs in Schools Nationwide Are Putting Students In Danger Every Day.

Finally discover how to quickly and completely STOP being bullied. Survival is rule one in prison and high school. Find out what most bullying experts, school officials and the police don't tell you and how you can finally put this "insider" information to work for YOU!

Author Dr. Dennis Regling has been involved in prison for over 15 years. He has also presented educational assembly programs in over 1400 schools in 26 states. He has interviewed prison inmates and chaplains, school principals, students and parents. What he has learned can help you survive and thrive in high school and life.

Dennis Regling offers an amazing Anti-Bully school assembly show, "Don't Play The Bully Game" for grades K-8. The assembly includes free posters, books for your library and extensive teacher materials. For details, call or go to: Dennis Regling Wonder Shows



Buy the book Everything I Need To Know About Bullies, I Learned In Prison: A Politically Incorrect Guide To Surviving High School Keep your child safe.







Dennis Regling's Wonder Shows.
1-800-858-5402